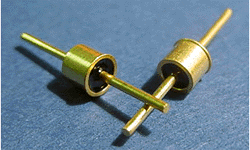 Our EMI Capacitors are designed to minimize stress/strain on both the internal components and the external solder joints which connect them to their host housing.

The stress/strain considerations of these devices are crucial to their long-term reliability.

It is critical that recommended housing design geometry be followed and that the appropriate device is chosen for the host housing material.

SHP supplies free assistance for assuring the consideration of all relative factors in the selection of the optimum device for any given application. Should a stock item not satisfy your application, SHP will design and specify the most economical device to meet the objectives and supply it in the shortest time possible.

Our standard capacitors are readily available in a number of capacitance values.

Contact us to discuss our program for stocking special parts for future availability.

Cap
Series

Bulletin
No.

Housing
Application

CTE
ppm/oC

Max.
Capacitance

Max.
Amps
Min.
Spacing
o.c.

99A25

710

High Expansion

15

10,000

5

.135

99A20

710

High Expansion

15

10,000

3

.135

74A25

704

High Expansion

15

10,000

5

.100

74B25

705

High Expansion

15

5,000

5

.100

1125

708

High Expansion

15

10,000

5

.145

K12A25

730

Low Expansion

9

10,000

2

.150

1330

702

High Expansion

15

30,000

5

.185

13R30

702

High Expansion

15

30,000

5

.185

13A30

702

High Expansion
(thin wall)

15

30,000

5

.185