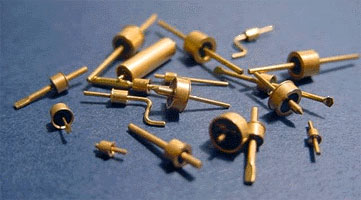 SHP manufactures highly reliable hermetic feedthrus, specifically designed for various host housing materials.

It is critical that the proper feedthru be chosen for the particular application. Material compatibility is one critical factor, but there are geometric considerations as well, including feedthru center and edge spacing.

We offer free consulting services to engineers and designers to assist in selecting the proper feedthru, thus assuring optimum performance and reliability.

The vast experience of our technical staff in the design, manufacture and application of hermetic feedthrus allows us to rapidly produce special devices when they are needed.

We offer a wide range of standard products, guaranteeing availability when you need it.

Should a non-standard part be required and future availability is a concern, contact us to inquire about our program for stocking your non-standard parts.